LendingTree Review: The Best Place To Find Your Next Loan
Finding the right loan provider can become very difficult and overwhelming. With so many different nuances in the terms and conditions of each loan and varying rates from each provider, it can seem like an impossible task to pick the best loan for you. Fortunately in this LendingTree review, you'll learn how the nation's leading online loan marketplace is here to help.
LendingTree gives borrowers a single point of contact. This allows them the opportunity to search for multiple lenders all on a single online platform. They provide borrowers the ability to search for the best loan available for their particular needs. This lets them shop and compare to find the best loan possible.
LendingTree manufactured an environment where many different lenders compete with one another for your business. This is in stark contrast to the typical process when applying for loans. Because LendingTree makes lenders compete against one another, it gives you the opportunity to get the best loan offer possible.
LendingTree's platform offers a variety of loans for consumers and businesses alike. LendingTree is not a direct lender. They are simply a lender aggregator that brings multiple lenders to you all on one platform. This means they do not make money by charging you higher rates like traditional lending providers.
LendingTree is the largest loan aggregator available today, having facilliated more than 50 million loans since it's inception in 1998. This LendingTree review will provide you everything you need to know about every facet of their service and will show you just why LendingTree is the best place to search for your next loan.
How Does LendingTree's Website Work?
LendingTree's platform is very easy to use and is fairly uncomplicated to operate. When you first apply you must provide your email address and create a password. You must then complete a series of questions. Some of these questions include your income and job title. They will also ask for your location, credit score, the type of loan you want and the loan amount.
Make sure to fill out all of the information as correctly as you possibly can. This is because once you select a lender, they will go through a process to verify all of your information. If for example, your income or credit score differs from the information that you provided, then the loan offer you received may no longer be valid.
You Can Get Free Quotes With No Obligation Whatsoever
LendingTree has no fees or cost to use their platform as a prospective borrower. The company only receives income from lenders who pay a fee in order to offer their services on their platform. This allows you to apply for loans with absolutely no obligation in a few minutes. And within an hour or so, receive emails and calls from banks who compete for your business.
The banks are the ones paying fees for using LendingTree's service instead of consumers. Because of this, they are motivated to provide you the best possible rates so that they can earn your business.
It is important to know that LendingTree is a Marketing Lead Generator service. This means your information may be given to prospective lenders and used for future solicitation. These lenders may try to contact you over email or the phone quite frequently initially. However, they will back off after they realize that you are not interested or have chosen another lender.
An expert tip is to use LendingTree to get loan quotes in writing and then bring those quotes to your local bank. This will force them to beat or match the rates you received on LendingTree. Having quotes in writing gives you a lot of leverage when negotiating with banks that you usually don't have. This strategy can often times lead to you getting extremely discounted rates.
The Different Kinds Of Loans Available:
Home Finance
Home Financing is the primary section of loans offered on LendingTree. Because of this, LendingTree has actually become a licensed mortgage broker. There are various options offered such as home equity loans, first time mortgages for purchase or refinance, reverse mortgages, conventional FHA/VA mortgages and construction financing.
If you are interested in a first time mortgage, they are available for various types of homes. The options include single family homes, townhomes, multifamily homes, condominiums, and manufactured/mobile homes. These can be your primary residence, rental property or a second homes.
Debt Consolidation
LendingTree also has a large debt consolidation section with a wide variety of resources to help you complete the process. They do a great job explaining how debt consolidation works. They also detail the types of debts you can consolidate and how consolidation loans can come in various forms.
Debt Consolidation doesn't only apply to credit card debt, there are many other debts that LendingTree includes. Some examples are medical bills, taxes, student loans, collection agency accounts, court judgments, utility bills, cell phone bills and unsecured personal loans such as payday loans.
As mentioned above, there are many different types of loans that can be used for debt consolidation. They include home equity loans, home equity lines of credit (HELOC), student loan consolidations, balance transfers and a cash out refinance on your home.
Another benefit is that they discuss the pros and cons of debt consolidation compared to debt management or debt settlement. They provide a debt consolidation calculator which can help you see if these processes will benefit you or not. Even if you never take out an actual loan, LendingTree can be an excellent place to get information on all things debt consolidation.
Credit Cards
Going over all of the details of each individual credit card offer and deciding which one is best for you can become incredibly time consuming and frustrating. Luckily LendingTree provides a lot of help to simplify this process.
LendingTree utilizes your credit history and financial information to present various credit card companies with the specifics of your profile. Then you can compare your offers against one another so that you can pick the one that's best for you.
A great benefit is that it eliminates the need to fill out separate applications for each credit card provider. This can be a tremendous convenience because filling out each credit application actually negatively impacts your credit score. Additionally, this can also save you time and money.
Each offer provides complete details on each card such as the cards features and benefits. They also include the interest rates and fees, rewards and bonuses and the credit score needed to qualify. LendingTree allows you to select the exact features that you desire. You can filter by things like the rewards offered, the credit score required and the interest rate needed.
Business Loans
If you own or operate a small business, LendingTree can be an extremely valuable tool for you to find financing. Traditionally finding a business loan was a very difficult process. This was because banks were often willing to lend to large established businesses but tended to avoid smaller ones.
LendingTree helps to solve this problem by bringing together a multitude of lenders to you all on one platform. This gives you the opportunity to choose the lender and offer that is best for you and your business.
There are a lot of different kinds of business loans that LendingTree offers for small businesses. These include short term business loans, long term business loans. small business loans, business lines of credit (LOC), business credit cards, equipment financing, accounts receivable financing, SBA loans and working capital loans.
Auto Loans
LendingTree also offers all kinds of vehicle financing. Financing is available for cars, motorcycles, trucks and vans, recreational vehicles and even boats! The loan application process is very much like the one for mortgages. You simply fill out a series of questions that help determine the specific financing available.
You will need to provide general financing and credit information. Additionally, you will need to include the type of vehicle you are interested in purchasing. You will also need to state the down payment you want to make, the amount of the loan and whether it is a purchase or refinance.
Student Loans
Just like when shopping for credit cards, applying for student loans can become very time consuming and stressful. There are many different programs and each has their own requirements and details.
Again LendingTree helps speed up the process by presenting you multiple offers all in one place. This allows you to pick the best loan for your needs. There are also programs for both new loans and for refinancing existing debt.
Other Services
LendingTree is one of the most comprehensive credit sites on the internet today, so almost anything to do with credit can be found on their platform. LendingTree also offers additional services aside from credit products such as auto insurance.
There are a lot of additional services LendingTree offers but some of the most popular are listed below.
Mortgage Calculators
LendingTree offers probably the best collection of mortgage calculators available on the internet. As a licensed mortgage broker, they offer calculators for almost any kind of mortgage. The calculators available include a mortgage payment calculator, home affordability calculator, debt consolidation calculator, reverse mortgage calculator, FHA calculator, VA loan calculator, rent vs buy calculator, refinance breakeven calculator and a mortgage negotiator calculator.
LendingTree does not require you to get a mortgage through their service to be able to use these calculators. They can provide tons of value to you in the home financing process. These calculators are available completely free so take advantage today.
Credit Repair
LendingTree's credit repair page features a list of credit repair providers and the fees that they charge for their services. The list is relatively short but if you need help with credit repair, these providers can help you improve your credit or workout settlements with your lenders.
LendingTree also gives a brief explanation of credit repair and the options that you have. This information is by no means comprehensive and does not go into the specifics of how to dispute errors on your credit report. However, it can be a good starting point for those interested in these services. There is also a list of credit repair specialists offered. You can use this list if you have a long line of credit issues that you need resolved.
Your Free Credit Score
LendingTree offers a truly free credit score through their website. The great part is that it doesn't even require a credit card to be held on file. You simply fill out a small application to check your credit score and the application will not impact your credit.
It is important to understand that this is not an actual FICO score that is used by lenders. Instead it is something known as the VantageScore which is provided by TransUnion. You can think of the VantageScore as an educational tool which mocks the FICO score, although they aren't the same.
They also explain the credit score process and provide information which will help you understand your credit report. They show you how the credit scores are calculated, ways to improve your score and why you should check it often.
Auto Insurance
Auto insurance is one of the few categories on LendingTree's website that isn't directly related to credit. However, since it is necessary to have in order to get car financing and is required by law in every state except New Hampshire, LendingTree chooses to cover this topic on their platform.
This page gives you basic information on auto insurance and shows you how to get the best rates available. Much like the loan offers in the categories mentioned above, the auto insurance page gives you the ability to shop for the top auto insurance providers in your state, allowing you to compare their plans side by side and choose the one best for you.
Reviews And Ratings
LendingTree also offers a lender review and rating service where they cover each specific loan category. These reviews and ratings are done by actual borrowers. These are the best kinds of reviews because they come from actual users with direct experience with these lenders.
The reviews and ratings cover providers of personal loans, mortgages, auto loans, business loans and student loans. This helps you to get comprehensive information about each specific lender.
Take Advantage Of Historically Low Rates While You Still Can
Mortgage rates have been steadily declining for more that 35 years, so there is of course a risk that these interest rates will rise at some time in the future. Pictured below is a chart of the 30 year fixed rate mortgage average in the UNITED STATES over the past nearly 50 years which illustrates this point.
Many experts expect interest rates to increase by only 2% or so over the next roughly 20 years as economic growth continues to stagnate. However, there is still a possibility that these rates could explode upwards at any time.
The Federal Reserve continually states that they will only raise the Fed Funds rate marginally. However, that does not mean that mortgage rates will increase. This is because mortgage rates are more closely linked to the 10 year bond yield, which continues to decline because of the high risk in today's markets.
Today there is a large underemployed population, with median household income going up just over $1000 since 1999. These numbers help to show that there has been hardly any real economic growth.
In this type of low interest rate environment many people may prefer taking out an adjustable rate mortgage (ARM). This is because the average length of home ownership is only 7 years and interest rates are in a steady decline.
We would only recommend choosing the ARM option if you can find a rate that is at least 1% cheaper than your best possible fixed rate. We expect that interest rates will go significantly higher in the future, so if you'd like to go the most safe route, it is probably best to go with a fixed rate mortgage.
What To Do If You Have An ARM
We recommend that if you have a year or less left on your ARM before it becomes variable, that you consider refinancing before your fixed rate ends. This is because ARMs are linked to London Inter Bank Offered Rate (LIBOR) rates when they become variable and LIBOR rates have began to climb higher.
The LIBOR is the basic rate of interest used in lending between banks on the London interbank market. It is also used as a reference for setting the interest rate on other loans. The LIBOR is a short term rate that is closely tied to the Fed Funds rate. The Federal Reserve began raising the Fed Funds rate in December 2015. The FED has stated that they will continue to do so in order to prevent inflation from getting out of control.
When you refinance an adjustable rate mortgage, the banks base the initial 3-10 year fixed interest rate on the 10 year bond yield and this bond yield has remained fairly stable recently. This means that the banks are basically subsidizing you with a lower interest rate in the beginning of your mortgage in order to get your business.
Why It's Time To Refinance Today
Mortgage rates are near all time lows in 2019 and the Fed has stated that they will not be raising interest rates. Knowing this and all of the information above, you should definitely at least check the latest interest rates if you have not refinanced in the last 6 months or so.
If you want to refinance or are simply a new home buyer, it is important to acquire as many bids as possible so that you can get the best mortgage rate and terms that you can.
Some parts of the yield curve have also inverted, giving borrowers the opportunity for better rates on 5/1 or 10/1 loans. A 10/1 ARM means that the interest rate does not begin changing based on the index immediately. Instead, the interest rate on a 10 year ARM is fixed for the first ten years of the loan.
After ten years, the interest rate can change annually for the next 20 years until the loan is paid off. The same is true with a 5/1 ARM, with the only difference being the 5 year period instead of the 10 year period. Below is a chart of the 2019 yield curve which illustrates the inversion mentioned above.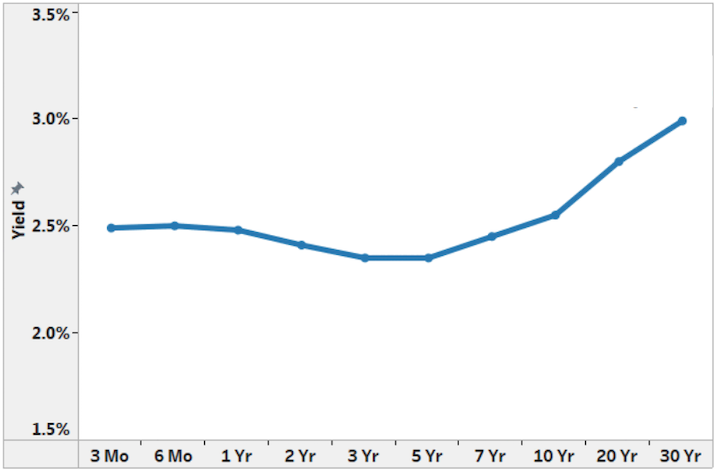 Conclusion
Whether you're in the market for a mortgage, credit card, auto loan, student loan or business loan, LendingTree is definitely worth looking at. They offer so many free services to help you make the best possible loan decision and have the largest selection of prospective lenders all on one single platform.
LendingTree flips the script on the traditional financing model and puts the borrower in the drivers seat by making loan providers compete against one another for your business. You also can become a very informed buyer by utilizing all of the tools that LendingTree has to offer, putting you in an even better position when negotiating your loan.
Select the links below or any in this article to signup and take control of your home, auto, business, credit or business loan application process today.